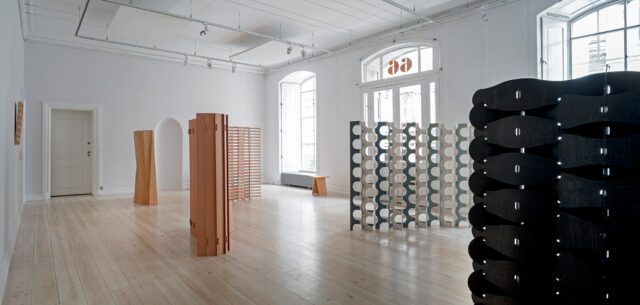 PROJEKT/PROJECT: Udstilling/Exhibition
ÅR/YEAR: 2018
MÅL/DIMENSIONS:
TAK TIL/THANKS TO: Esther og Jep Finks Mindefond for arkitekter og kunsthåndværkere; Statens Kunstfond; Ellen og Knud Dalhoff Larsens Fond; Billedhuggeren, professor Gottfred Eickhoff og hustrus, maleren Gerda Eickhoffs Fond; Fogs Fond og Statens Værksteder
FOTO/PHOTO: Jens Lindhe og Dorte Krogh
SAMARBEJDE/COLLABORATION: Farvesætning af billedkunstner Malene Bach og skammel produceret af A Petersen Collection and Craft/Colours by Malene Bach og stool produced by A Petersen Collection and Craft.
I soloudstillingen TRÆ, SAKS PAPIR i Officinet dannede skærmvægge og siddemøbler nicher og ophold i udstillingsrummet, i formeksperimenter hvor global inspiration og digital teknologi flød sammen med traditionelle håndværksteknikker.
Med globalt udsyn og lokal forankring er værkerne udviklet i krydsfeltet mellem japansk æstetik og danske håndværksteknikker. I fusionen mellem en arabisk tradition for filtrering af lys og en nordisk kontekst.
Træ, saks, papir var en udstilling om rumlighed, lys og skygger. Om materialer udsat for håndens arbejde og maskinens præcision. Origami og tekstil er konkrete og abstrakte inspirationskilder transformeret til tredimensionelle værker i træ. Værker af foldet papirtynd finér og vævet massivt træ. Krydsfinérsvægge i plisseringer og strikkede strukturer.
At the solo exhibition WOOD PAPER SCISSORS in Officinet screens and seating furniture created niches in the exhibition room. The works on display merged digital technologies and traditional handcraft techniques, creating experiments in form that reflected their global inspiration.
With a global view, but locally grounded the works were created at the crossroads between Japanese aesthetics and Danish craftsmanship. Combining an Arabic tradition of light filtering with a Nordic context.
Wood, paper, scissors was an exhibition about space, light and shadows. About materials subjected to both crafting of the hand and precision of the machine. Origami and textiles are concrete and abstract sources of inspiration represented in three-dimensional wooden forms. Works folded in paper-thin veneer and woven in solid wood. Pleated and knitted plywood wall structures.